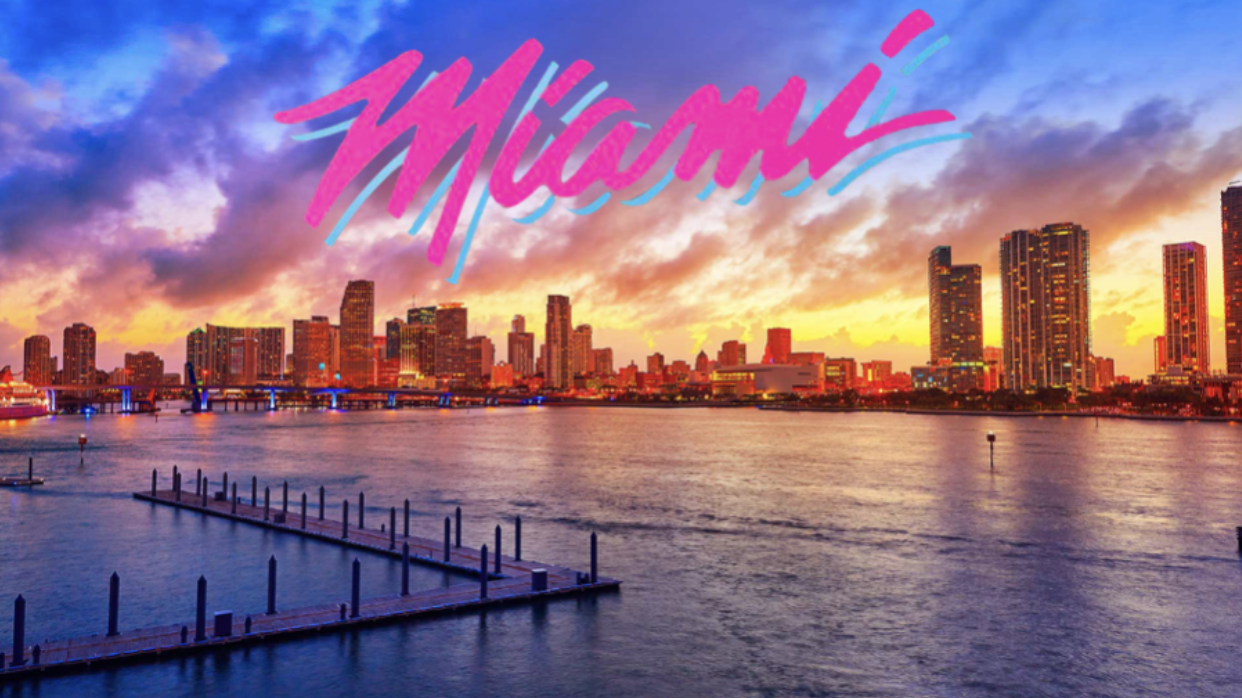 Like the very gale force winds that unexpectedly sweep through its sun soaked beaches, Miami is a force of nature. If Miami were a person, or had a true locally sourced 'spirit animal' like-embodiment  it ironically be that unpredictable and passionate Tony 'Scarface' Montana (You know the face, it was on every t-shIrt at Hot Topic) who is standing high above Miami, silently grimacing at any judgmental looks shot his way. Miami is a city that has risen through the ranks over the years. Having been voted one of the worst cities to live in in 2016, which seems like centuries ago, (even beating out Detroit for the title) Miami has made strides in the past few years for better living. So let's 'Say Hello' to our not-so-little friend and 'party in the city where the heat is on; Miami.
According to our local Miami Laner, Brittany Pena, "Everything is expensive! Everything! And the traffic is a hot mess, it's like every man for themselves out here or the wild wild west on these streets. If you don't have road rage yet, you probably will. " The cost of living seems to have risen since 2016. According to this website Miami has been voted more expensive to live in beyond the usual high priced metro suspects like LA and NYC. It should also be noted that there are no State taxes which will save you lots of money, but it's high cost of living makes up for the rest. And as for the road rage…if I had to pay those prices and then get into a hot steel box stuck in traffic behind tourists trying to find South Beach parking, I'd be pretty pissed off too.
While asking the question, are Miamians good people? It seems the most prevalent answer is that Miamians are courteous in the sense that they will wave hello and smile as they cut you off in traffic. That kind of nice. So compared to some quaint little midwestern suburbs, sure, Miami hosts a population of diverse young professionals and 'the retired' who get a kick out of letting their inner Tony Montana out a little more than the 'Hendersons' of Dearborn street. So if you're thinking of passing through, or even finding that permanent spot to park your beach towel please know that Miami is a melting pot of feisty up and comers; a melting pot because it's always sweltering and incredibly diverse in its people and cultures.
One very popular event series that takes place in Miami amongst other cities is Art Basel. An international Art Fair, Art Basel plans to reopen at the tail end of 2021. According to their website "The next edition of Art Basel in Miami Beach will take place from December 2 to December 5, 2021, with preview days on December 1 and December 2, 2021." In years past, and without the pandemic ruining well laid plans, the fair traditionally hosts 68 galleries from 35 countries and showcases works from up to 4,000 artists. It is usually held at the Miami Beach Convention Center and I'm sure everyone in Miami is ready to head back. 
One restaurant recommended to us was Joe's Stone Crab, a Miami institution when it comes to all things crab and seafood. Having been open since 1913, there was no way a little pandemic was going to knock this place off the map. Taking things seriously, Joe's places all precautionary measures in the foreground and enforces them, even a dress code: "It's Joe's. Please choose an outfit in which we'll both be comfortable. Casual, but neat attire.  Men must have sleeves.  No beach attire. No athletic wear.  No cut off shorts.  Everyone must wear a mask." Now onto the main event – The Stone Crab Claws. Stone Crab season runs from Mid-October to Mid-May so you have exactly half a year to make sure you fit Joe's into your budget and your calendar. Served at market price and offered in 4 different sizes, it is obviously the most popular item on the menu, and with good reason.
Another popular spot still managing to make waves during these turbulent times is My Sweet Liberty. Having re-opened back in November under the new creative direction of Bar Manager, Naren Young, a NYC restaurant scene and bar native, My Sweet Liberty offers memorable ambiance and taste. "Sweet Liberty Miami! Their food, drinks, and ambiance are incredible! Hands down my favorite menu item is their Cauliflower Nachos (They will change your life)! It's the perfect combination of "Healthy" and "Unhealthy" foods so they technically cancel each other out. Your welcome." (Brittany P). Their bar menu is broken down into "martinis, spritzes, highballs, a legacy list, and new-school drinks. For longtime Sweet Liberty lovers, the legacy list will be home to cocktails from the original menu, where customers will find Lermayer's famous piña colada made with a three rum blend, pineapple, coconut cream, Jamaican coffee beans, and a Pedro Ximenez float." All in all this is a spot worth checking out. 
And here are just a few more things people have to say about Miami and what is has to offer:
"Dancing! One of my favorite things to do is dance and living in Miami, the city that is known for its nightlife, that's what you do any day of the week you want! There's nothing like walking into the bar/lounge/club and hearing your favorite song and running to the dancefloor, its magic. Brickell, Wynwood, and South Beach all have "dance the night away" gems!" (Brittany)
"Miami Beach. Over priced, tourist trap. The worst parking." (Brian)
"Rain in Miami. Flooding. If it doesn't get you from above, it will get you from below."
"Cooler temperatures are an aberration. With the exception of some crazy rain, we don't have weather in Miami, we have climate."
"Florida has the highest numbers of uninsured drivers in the nation. Watch yourself."
"No state taxes but high cost of living."
"Other creatures live in this place other than you."
Ok, so like every city, there is more than meets the eye when it comes to Miami. A complex city no doubt, embodied by its passionate and unpredictable totem Tony Montana that once was once voted a horrible place to live but has now risen from those ashes. Now Miami is a booming mecca of great food, art, expensive living and drivers relishing in some healthy road rage….ok, so it still has a ways to go but what city doesn't.