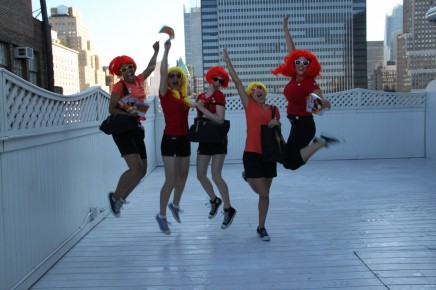 Here on Mustard Lane, we go to NYC & Company if we are looking for a good– no, a GREAT time!
NYC & Company is the official marketing, tourism and partnership organization for the City of New York.  Their people know our people, so they have been working with Mustard Lane for the last several years.  No matter what event ML is promoting, Laners know that they're going to have a good time working with NYC & Company, because after all, it's all about NYC.  We often get to play dress up with them, roaming the streets in brightly colored wigs (pictured) or rain ponchos or sporting Smurf T-shirts.
Anyone coming to the City should definitely make them their official tour guide!  Check out their website for the latest in citywide events.