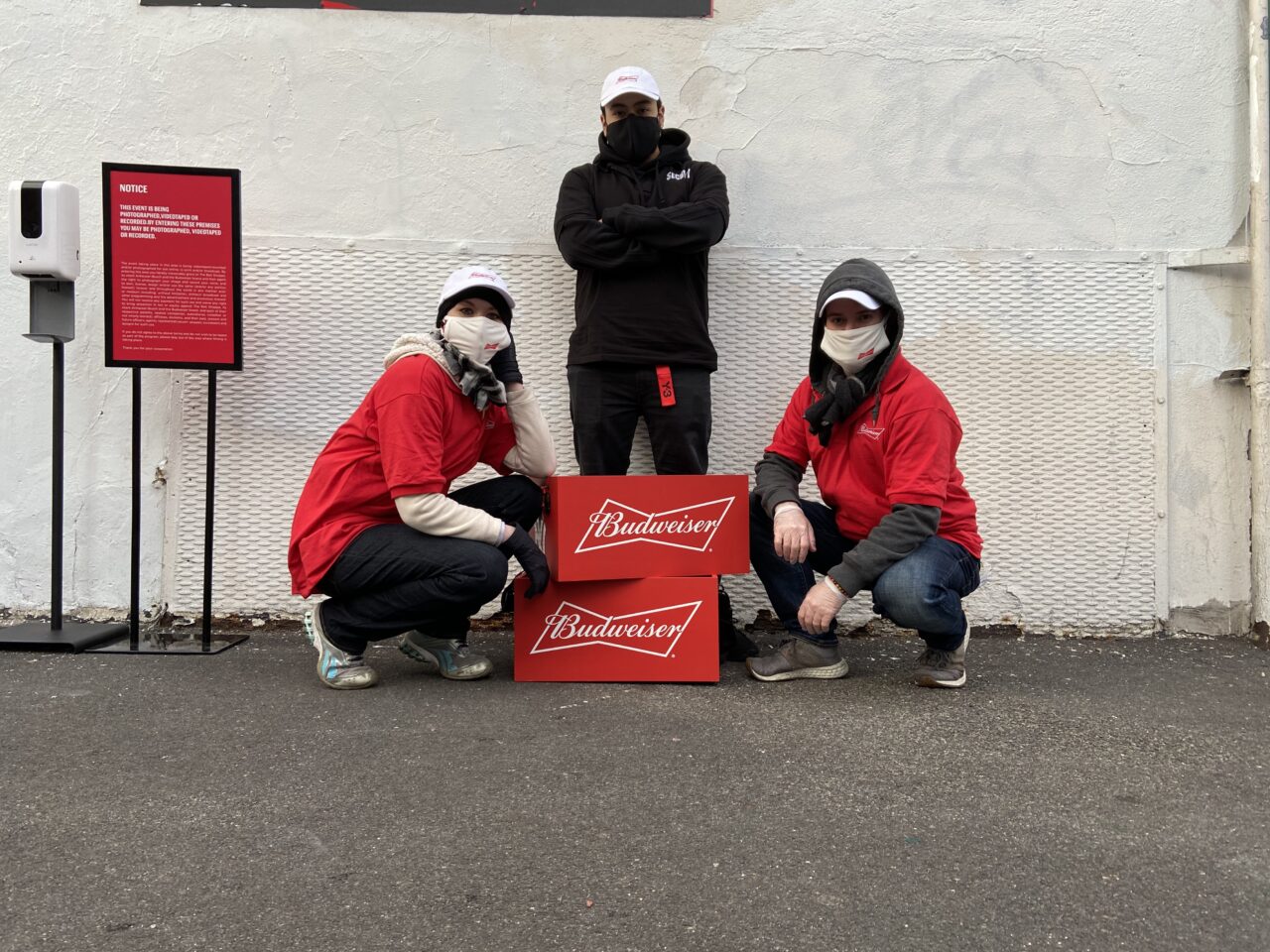 April 1st marked the Opening Day of this year's Major League Baseball season, and a major 2021 event for Mustard Lane, Bait Shoppe and Budweiser! Expectations were high as baseball fans everywhere jumped at the chance to participate, take a photo at our photo activation and grab a Hot Dog!

Activating in both Chicago and New York City on April 1st – our Street Teams (clad in Stadium employee apparel) took to the streets to spread the word of Baseball's commencement and share some Budweiser rewards with local fans. With baseball stadiums everywhere still at half capacity (at least), Budweiser and Bait Shoppe looked to bring the experience to the people. Each city built a slice of its respective hometown stadium bleachers replica for fans to sit in for an excellent photo op, and a chance to bring the stadium to them.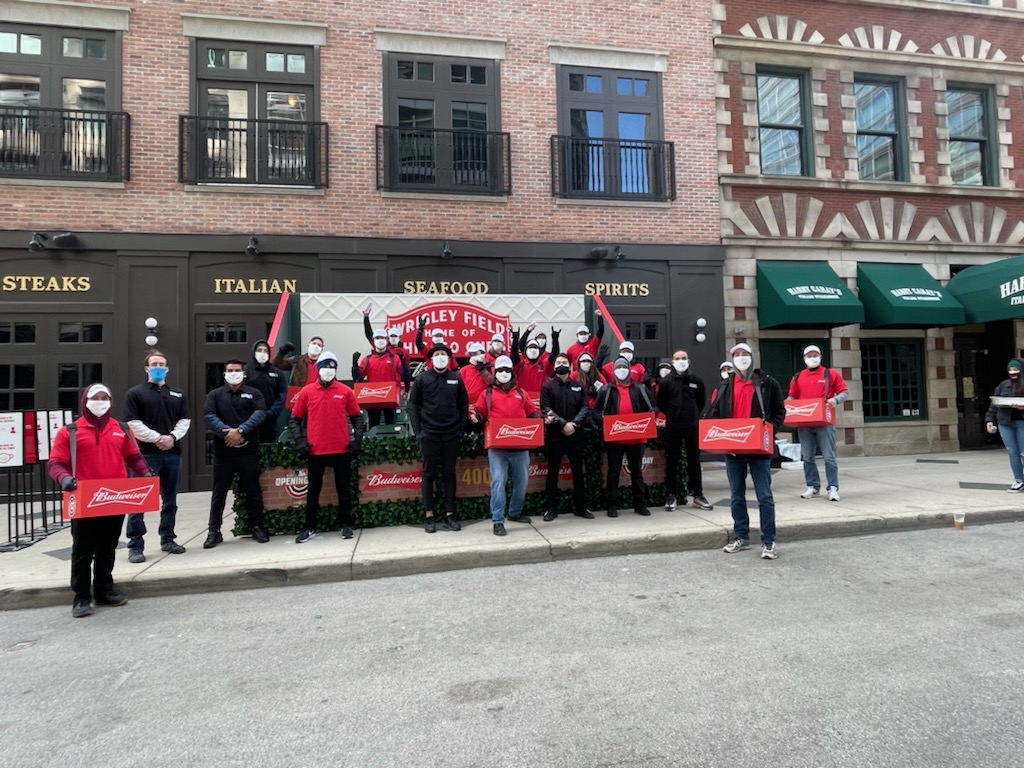 So whilst commuting to your job in Chicago along the busy sidewalks of West Kinzie street you just might run across our Laners encouraging you to partake of a Wrigley Field experience outside of Harry Caray's Italian Steakhouse and get a free hot dog in the process!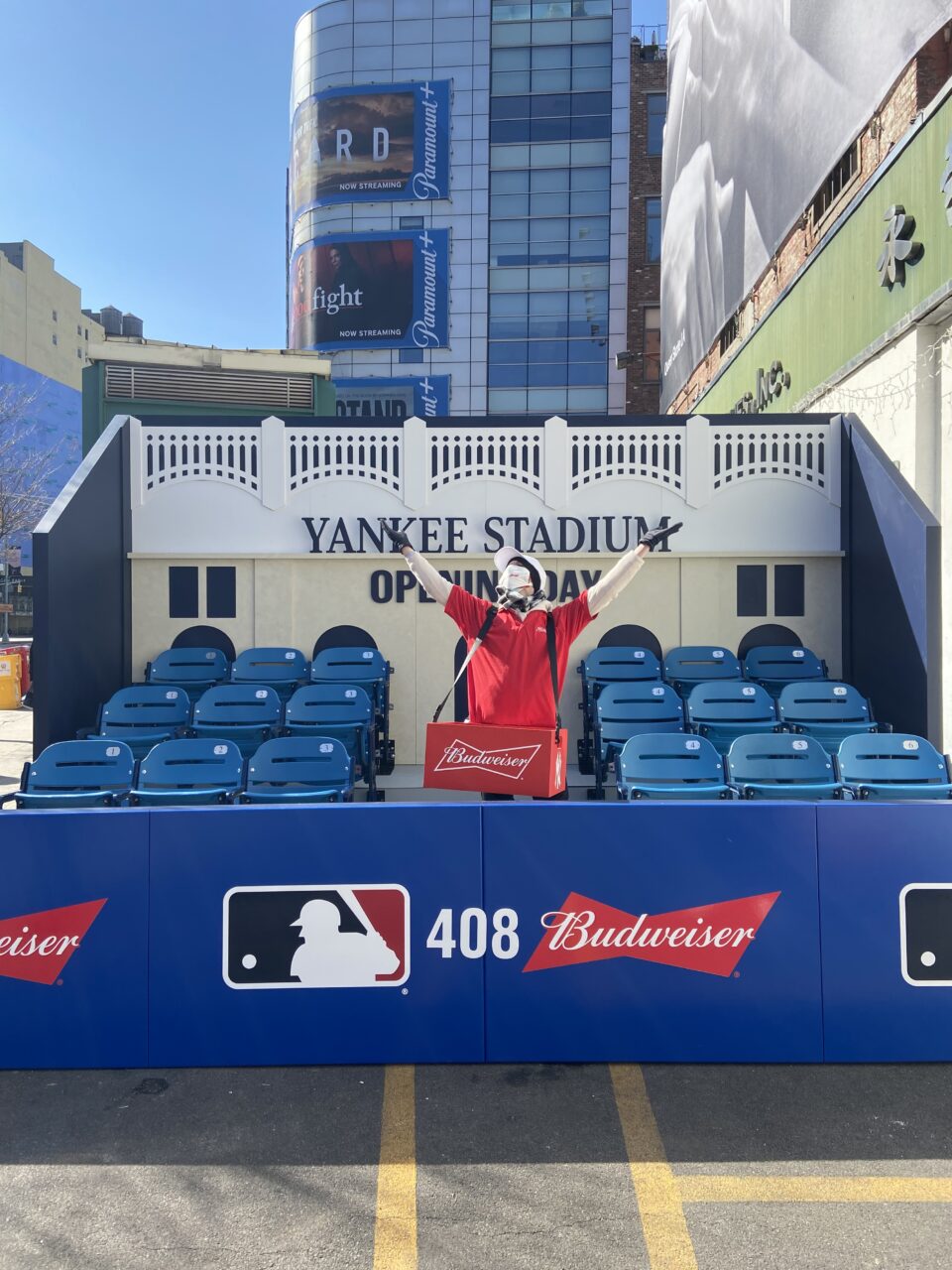 In NYC, our Brand Ambassadors took to the streets in a similar fashion, originating at a Yankees Stadium recreation on Houston St, and then journeying to various areas across Manhattan. The goal was to present 21+ with reeemable coupons for a free Bud at local participating bars. You could even get a free Hot Dog (while supplies last) and then hop on over to the participating bars like Jake's Dilemma (UWS), the Stumble Inn (UWS), and Off the Wagon (Greenwich). Dressed as Baseball stadium Hawkers and Baseball stadium Security guards, our brand ambassadors sought out fans and eager participants and rewarded them with pre-wrapped Nathan's Hot Dogs and the aforementioned coupons. So whether you were headed home from work, or out to exercise some well established Game Day Yankee traditions you could easily have bumped into our Laners checking ID's and spreading 'in-character' cheer to the baseball masses!

The event marked the return of several veteran Laners in both markers, as well as introducing several new Laners to the team! Eric Madarik, Chicago Team Manager said: "People were very happy to take hot dogs or a chance to win free tickets for a future Cubs game!" Deven Anderson, Manager for one of the NYC teams said 'It was good to be back onsite again, people are receptive to these kinds of things still so our jobs weren't that hard at all!." Jason Michael Miller of NYC, who worked onsite at the Yankee Stadium photo op "I love events like this, getting to work with the public, and seeing their faces light up when they see we're giving away complimentary treats to celebrate something special!"

The whole experience was a Home Run and hopefully a precursor to many more fun events coming out soon!