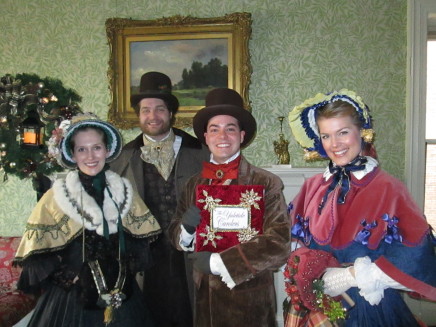 It's a great time of year for many of Mustard Lane's staff.  We pride ourselves on having the sexiest and most talented working artists that New York has to offer.  Unfortunately, this means that our Laners aren't always available to work on the Lane because they're off being fabulous.  Here is just a  sample of the work that our staffers are doing this winter while not on Mustard Lane.
A Christmas Story
#Laners Caitlin Mesiano and Erica Wilpon are both doing the stage version of the beloved holiday classic, A Christmas Story at the Wagon Wheel Theatre in Warsaw, Indiana.  They report that they're having a blast!  "The kids in the show are super talented and [we] can't wait to see the audience's reaction to their hard work," says Caitlin.  Break legs, ladies!
Jen Donohoo is currently serving as Assistant Director/Choreographer for Soul Doctor off-Broadway.  Perhaps some of the more theatre-savvy #Laners will remember its too-short Broadway run.  The producers have moved the show off-Broadway and completely transformed their space to fit the show.  Check out this link to watch the transformation.  The one-act show runs roughly 90 minutes.  Jen was kind enough to include a discount code for tickets:  just use the code SDFF for $39.50 tickets throughout the run.  It has been in previews since November 28th, but officially opens December 14th.  Best of luck, Jen!
Hottie Taylor Fields stars in Up on the Rooftop at every chocolate lover's paradise, Hershey Park, PA.  Produced by the Emmy-winning company, RWS & Associates, the show features Taylor dancing a variety of roles, from a tap-dancing reindeer to a graceful snow queen.  The #Laner sweetheart says, "I feel grateful to be able to do what I love this holiday season while spreading holiday cheer to people of all ages."  Well, we can't wait to have you back on Mustard Lane, Taylor!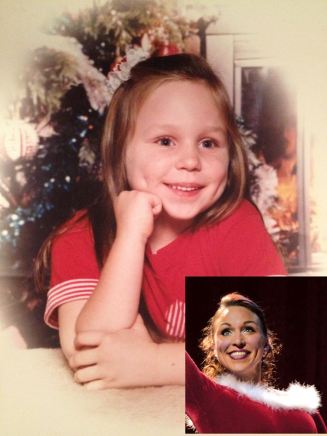 Karen Webb returns to the Indiana's Beef & Boards Dinner Theatre for their Christmas show, which runs through December 23rd.  This is her seventh time performing at B&B in Indianapolis, and her fourth appearance in the Christmas show.  She is happy to be singing and dancing her way through the season… but she still finishes in time to spend Christmas with her family in Georgia.
Nicole Corris (already pictured) is currently strolling around the state of New Jersey, dressed in Victorian costume and singing her lungs out.  Why?  Because she is a member of the Yuletide Carolers and gets to spend the holidays literally spreading Christmas cheer.  "My favorite gig was toward the end of the season last year when we were hired to help with a surprise proposal," she says.   "We strolled up to the girl's house singing and her parents brought us inside.  They were in on it! The guy snuck in behind us, hiding behind our huge costumes, and at the end of Winter Wonderland, made his appearance with the ring. We spent the rest of the hour singing by their christmas tree while both families celebrated. It was magical."  Have fun creating those Christmas memories, Nicole!
Plaid Tidings
Laner Joe Boover is spending the month in Wichita, Kansas as a member of the cast of Plaid Tidings. This four-part-harmony show is similar to Jersey Boys, except it's about a less popular group of misfit/ Christmas-loving teens called "The Plaids" who have a lot of heart, but never get their big break.  He plays the Frankie, leader of the lovable loser pack. "I rarely play the leader, but Frankie's accompanying asthma and insecurity help me feel right at home!" Joe jokes.  "I've never been in a professional Christmas show before. I used to always buzz with excitement over the idea of performing live theatre during the holidays.  And it's a lot of fun to finally be a part of that this year!"  We look forward to having him lead our street teams come January!