Mustard Lane is only as good as it's Laners, and so on this holiday which has become less about celebrating oppressive settlers and more about celebrating those we cherish as family as well as those unforgettable honorary familial bonds we have created over the years and sharing in a dinner table experience that would put any sitcom family to shame. 
So seeing as no Thanksgiving Day dinner wouldn't be complete without going around the table and saying what we're thankful for, even during a year we wish we could forget while we're in it…we turn to Deven. 
Deven is our Operations Director and has had the chance to work with a great number of Laners through the years, and so today he gives thanks to a few who have reached out to let us know where they are and what they are thankful for.
I love my Laners, I love Mustard Lane…there I said it. My feelings are on the grid. I've got feelings for days, and I know my special brand of humor might make me seem like a stick in the mud, but as soon as any event is over that I've worked with you I'm always gushing at how much I enjoyed working and smiling with you…Yes, even you, the person who's reading this who I've never met before – Who knew we both liked music, OH WAIT everyone likes music. Below are a few Laners who got back to me, what they're up to and why I'm thankful for them.
Jason Michael Miller
Jason is a tour de force in NYC and I'm grateful to call him friend since the early days of my arrival in this city. We've shared the stage together and we've worked together many times over and I am always looking forward to the next time. His energy, positivity and investment in others lives is something to be inspired and I only hope some day he comes to know just how proud I am to know him as a human being and fellow artist. I am thankful for every minute I get to spend with him!
What Jason is doing for Thanksgiving:
"I'm going to be celebrating Easter, Memorial Day, Cinco de Mayo, St Patrick's Day, Labor Day, Juneteenth, & Halloween with Thanksgiving since we didn't really get to celebrate them in quarantine.
Thankful for:
Thanksgiving. Mustard Lane. Food delivery. Science. Essential workers. Crystals.
Chris Schermerhorn
Whenever Chris decides to send Mustard Lane or the office an email or a call – it becomes the highlight of the day. Chris instantly puts smiles on everyone's faces no matter what they are working on. I've had the privilege of working with him once onsite and seeing Chris interact with anyone is a sight to behold. Chris is kind, selfless and makes everyone feel like they have turned all the lights on in a room.
What Chris is doing for Thanksgiving:
"Still in good old West Hollywood!!!! This thanksgiving I get to spend with my boyfriend and his lovely parents (and their poodle)!! That'll be very nice!! My family is back home in Ohio, with both of my parents a little bit older, we decided staying put is best!!! "
Thankful for:
"I'm so thankful for my health, support from my boyfriend, family, and friends, and thankful for opportunities to still be creative!!!! I'm also thankful for HEAPS of food (Quarantine 15 am I right!?!) "
Vincenzo Hinckley
Vincenzo is going places. He finds joy in solving problems and taking on any challenge. He's incredibly friendly and charismatic. Picture that bah-humbug person in your life, ten bucks says Vincenzo could 'Ghosts of Christmas Past/Present/Future' them and make'em smile in just one interaction. He's also insanely talented and I'm looking forward to the day we work together in the theatre (when stages reopen) and he upstages every syllable I utter onstage.
What Vincenzo is doing for Thanksgiving:
"I will be cooking a roast beast with mah beyoottiful lady fren."
Thankful for:
"Health and happiness and that my family is safe at the moment. Italy has been hectic. Also thankful for an amazing support system of friends and the coolest work fam ever ( Hellooooo, McFly…that's you Mustard Lane)"
Kate Wesler
I am thankful for Kate's unyielding spirit. This person dances their way into your life and brightens it immediately. She finds joy in even the smallest of things and hands down will destroy you in a game of 'Name that Broadway tune!' And besides just needing a heartbeat to become fast friends with Kate, she will be your best friend if you can answer this question correctly: "Do you put glasses away upside down or right side up?"
What Kate doing for Thanksgiving:
"My Thanksgiving plans include baking my first ever homemade pumpkin pie!! Now I just have to figure out how to turn the oven on. "
Thankful for:
"I am thankful for parentheses and colons, because together they make a 🙂 and are small reminders to show smiles to loved ones who may be miles away. I'm also grateful for my tap dance practice pad. But I think my neighbors are way more on the benefit side than myself.
I am also grateful for Spotify Premium which I just got this year. Christmas music for hours on end with no stops is magical. And for Siri, who seems like she lives with me but in a very 2020 socially-distanced way."
Nichole Naccash
Nichole takes initiative in work and in life. I am always thankful to have her onsite because she has a need to understand how things work and improve the operation of it. I've worked far too many gigs where Nichole has saved the day with her fearless drive to solve any issue. Hearing 'Can I try' from Nichole garners immediate sighs of relaxation because it is almost always followed by "Fixed it." If there were a million more Nichole Naccah's in the world we would be living in a better place because no one would wait to have things fixed but would just fix it themselves.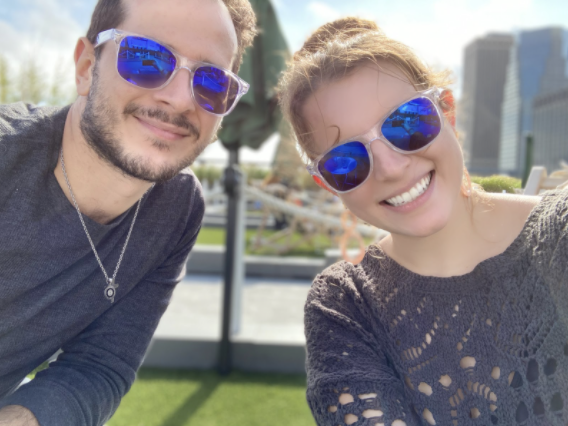 What Nichole is doing for Thanksgiving:
"I'll be celebrating Thanksgiving with my wonderful partner, plenty of wine, and Hallmark movies! (AKA a normal quarantine day)"
Thankful for:
"The resilience of the human spirit, My family and chosen family, BroadwayHD, and the amazing community that is Mustard Lane and Off The Lane"
Brittany Brook
Brittany Brook or the 'Mister Rogers of Folk Music' as she has come to be known is the SWEETEST person you will ever meet and still holds the record in my book. I will always be so grateful for her outstanding demeanor and ability to be genuine with everyone she encounters. I once worked a gig with her where on our off time she described to me the plot of Disney's Moana and she started to cry while explaining it. I hope she doesn't hate me for holding on to this story or retelling it – it just encapsulates how much love this person has to give in the world.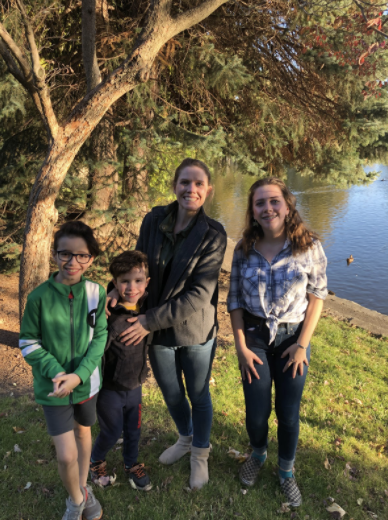 What Brittany is doing for Thanksgiving:
Matt and I have moved to Walla Walla, Washington to be near our nifflings during the pandemic. We miss NYC so much, but it's a deep blessing to be able to hug and squeeze them every day, and we are closer to our parents too. This Thanksgiving will be unusual and in pieces, I think. We may have some high-risk parents over one weekend to make food and celebrate. Then on the day, we will be with our POD: the niflings and my sister and her husband.
Thankful for:
Matthew, my husband and life partner. He has been so rock solid for me through this year. We actually had the best time during the quarantine (that is, of course, in spite of the intense emotional stress of having my mom work the hospitals in NYC and knowing thousands have lost their lives). 🙁 Matt and I awoke each day at 7, worked out at 9 to "Insanity" on the TV, worked on our art from 10-5, then made dinner and watched "Lost." It was really great to see him, since we normally are passing ships in the night. He drove across the country with me in a Uhaul, and he is still my husband and best friend. How did I get so lucky? Beats me!
Karen Webb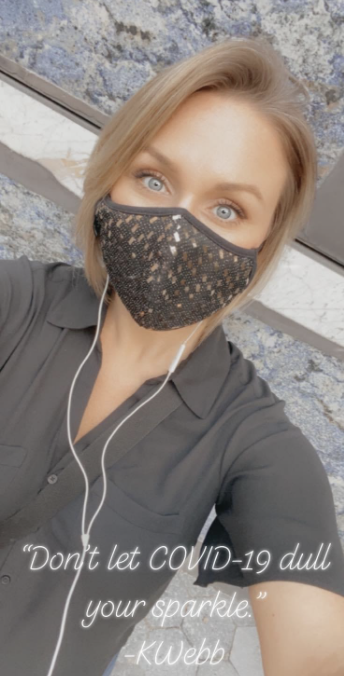 Besides being off the charts generous, talented and professional – Karen is reliable. Knowing you can be counted on these days is a true currency worth aiming to be rich in. She's worked countless events where she manages everything by herself because she gets it all done and doesn't need to ask all the questions. She just does it. Knowing she is on a Show contract is a blessing and a curse because she is legit talented and deserves all the fame and attention one can have in this business – but it also means I can't hire her for Mustard Lane gigs. Oh and also – I once ran into her at a NYC airport and it was the most pleasant thing that's ever happened to me at an airport – so much so that I'm always looking for her at airports.
What Karen is doing for Thanksgiving:
"If all goes as planned… it will be the first thing to go as planned in 2020.
I hope to spend Thanksgiving with family in Ga, at my parents new lake house! Pulling the positive…Since live theatre isn't currently happening, it will actually be the first Thanksgiving in over a decade that I'm not away on a contract and am able to make it home. Looking forward to it!
"
Thankful for:
"What am I thankful for, you ask? In no particular order…right about now I'd say: family, friends, my health, Astoria, NYC in general, music, inspirational quotes, sparkly masks
…. and of course, Mustard Lane for being my saving grace since 2010!"