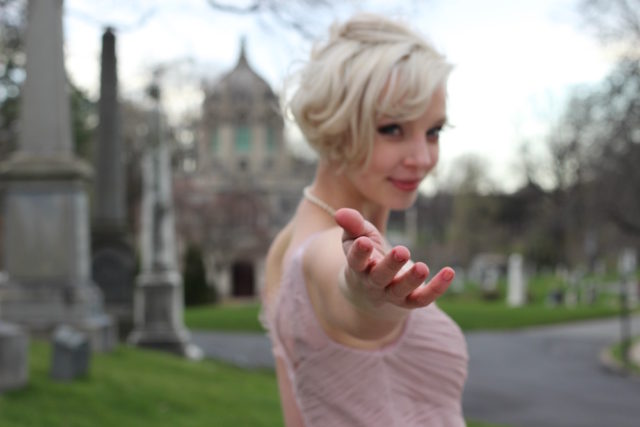 The Great American Casket Company
At the top of the "to-do" list for NYC residents and tourists alike sits Brooklyn's Green-Wood Cemetery.  Founded in 1838 and now a National Historic Landmark, Green-Wood's 478 rolling acres act as the final resting place for over 560,000 New Yorkers, including Leonard Bernstein, Charles Ebbets, Louis Comfort Tiffany (yes, THAT Tiffany), and thousands of others.  Every Thursday through Sunday until the end of June, it becomes a stage for BREAD Arts Collective's production of The Great American Casket Company.  #Laner Kelly Klein produces and performs with BREAD Arts Collective.   We couldn't be more proud of her or thrilled by the show.
The Great American Casket Company takes its audience members on a two-hour excursion through the cemetery under the theatrical auspices of selling them on the after-life.  This immersive, interactive piece uses music, puppetry and storytelling to address some of life's biggest questions about life, death and mortality.  At the end of the show, patrons land at a reception with some of Brooklyn's biggest vendors, hosted by co-producer Modern Rebel & Co.
#Laner Kelly Klein not only produces and acts in the show, but she took the publicity photos.  That means her work spanned the pages of the NYC daily, Metro.  Congrats, Kelly!  BREAD Arts Collective was approached by Green-Wood Cemetery and commissioned to do the piece.  Then they went to work.  "We essentially went into Green-Wood and used it as our inspiration to create an entirely original piece for the cemetery," fellow BREAD Arts member John Egan explains in the Metro article.  "We just wanted to let it tell us what to make there."
The Great American Casket Company limits its audience to 75 people per performance.  Tickets are $75 for non-members of Green-Wood, and $70 for members.  Get your tickets here, and check out the group's Facebook page here.  Mustard Lane CEO Kristal Mallookis and Director of Recruitment Zekee Silos can personally attest to the power of the production.  So mark Green-Wood Cemetery off your NYC bucket list.  And come support a fellow #Laner!