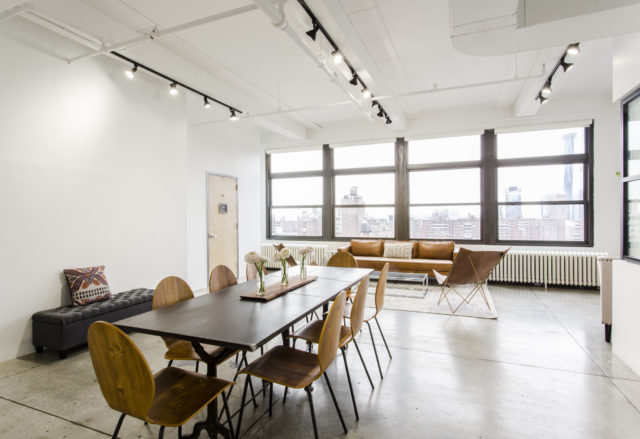 As most of you know, Mustard Lane is the parent company of Meaux Space! Our amazing space is located in the heart of Chelsea, where events are booking up right and left. Since we launched in November of 2017 (oh, how the time flies), we've been busy with quite a variety of events! We weren't sure what this new venture would bring, but it's been a great experience watching Meaux transform from event to event. We've expanded our horizons and hosted more events than we could imagine. We're here to fill you in on what Meaux is really capable of!
Last fall we hosted a seated dinner party for over 40 people! It was a challenge as far as the size of our space, but with some maneuvering of the furniture we were able to revamp our open-concept to accommodate the needs of the special birthday guest!
Once we mastered the art of dinner parties, the space began getting booked for commercial and film shoots. Turns out our kitchen is the main attraction when it comes to filming! We've hosting many film crews and even had some celeb sighting with Liam Neeson and Karlie Kloss filming in the space! There's nothing like walking into work on a Monday with a bagel in hand only to be greeted by Karlie Kloss modeling for Carolina Herrera! Below is a fun photo the Juicy Juice commercial that was recently filmed at Meaux.
Meaux is located on the 17th floor and overlooks the west side, toward Hudson Yards/Hudson River. The sunlight is spectacular throughout the day, providing optimal light for photo shoots. Not to mention the sleek look of the space, many guests have booked Meaux for their shoots ranging from headshots and lifestyle shoots to influencer events. The balcony provides a great space to capture a view of the city, and provides sunsets unlike you've ever seen! If you're ever interested in securing a photographer or an event planner, check out Lauren Lucile Creative, she has been our go-to girl at Meaux and we couldn't recommend her more!
Ditching the seated dinners, many people have been booking Meaux for intimate wedding receptions, launch parties, bridal showers and baby showers. Meaux also comes with a variety of furniture if you want to take away the dining table and host more of a cocktail party! We're known for hosting stellar parties and even have an in-house deejay – empanadamn!
As you can see, we've had our hands full at Meaux, all the events have taught us a thing or two about the essentials to a great event! Meaux wouldn't be possible without the help of our Mustard Lane staff who help to manage, bartend and cater events at the space. We're also happy to announce that we're officially offering bar packages, floral arrangements and small bites!
Thanks for checking out what's new at Meaux, and be sure to following along on Instagram for #Meauxdrinks, where we teach a new cocktail every Friday!