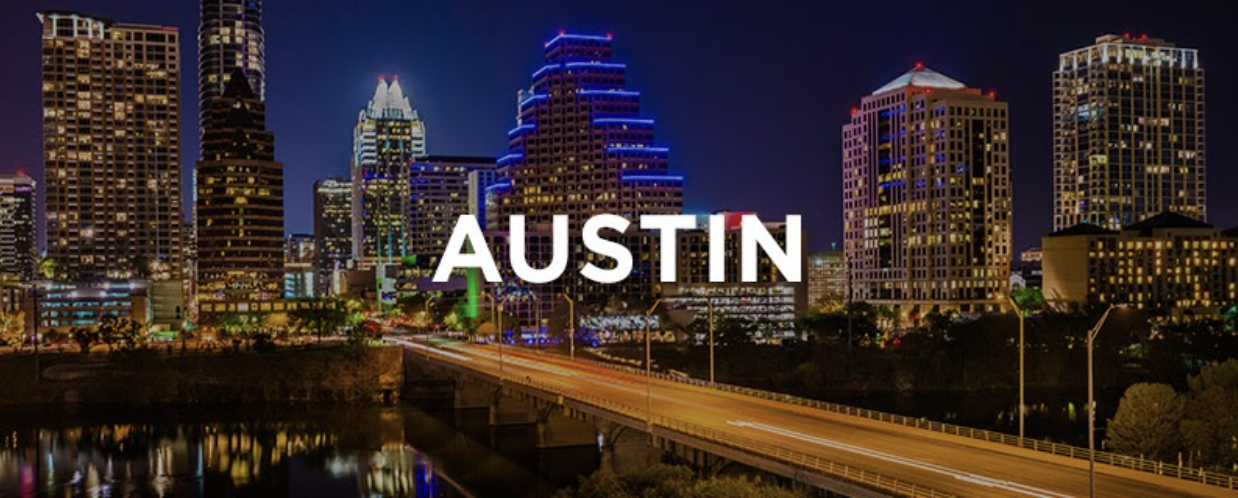 'Moved here yesterday? That's too bad. Austin's not cool anymore.'
If you ask an Austinite what their fair city is like, chances are they will lie to you because they have struck gold. "Austin? No you don't wanna live here, it sucks…You're like ten years too late…" But with 300 sunny days a year, an award winning barbecue and bar scene, iconic scenery and some genuine human inhabitants – this city is making strides.
Now don't get me wrong, Austin has its faults just like any other city. If you were to throw a handful of pennies up into the air, chances are they would land on just as many local musicians or band members….and they'd probably gladly take the pennies to use towards what you might consider odd fashion choices. Or how about Austin's climate supporting only three seasons ('spring, hot and dry summer, and extended Autumn' – Danielle) which sends the city into complete disarray when a few snowflakes hit the pavement – "It's 80 degrees today. Winter is Coming." And if you copied that initial feeling of dread when you see the lines at a Pre-Covid Harry Potter theme park and applied it to the Barbecue spots in Austin you'd barely be scratching the surface of their popularity. To many, including overly protective Austinites these may seem like faults to actively avoid, but I venture a guess to say that in retrospect and at a distance these are the charms that make this city so great.
So what do some of our local Austinites have to say about their city? (All completely honest remarks hopefully)
"Austin – A bigger city that feels like a smaller city. There's tons of great food, art, and things to do, but there's still that community feel we all love. People here are super friendly and spend as much time outside as possible." – Amelia
"Austin is a city that often reminds me of Portland, Oregon and Berkeley, California : a laid back feel with high end flare!" – Melissa
"Be ready for everyone to talk to you. I came from the UK and was confused when strangers in the elevator asked how my day was going!" – Heather
Now let's talk BBQ. One popular spot among our contributing voices and definitely popular online is Salt Lick BBQ. Situated in three local Austin spots, this popular BBQ joint has earned national coverage and notoriety (Business Insider Salt Lick Article). "There's plenty of outdoor seating, a play area for the kids and live music at the weekends. All BBQ in Texas is good, but this place stands out for it's BBQ sauce. It is the best I've ever had." (Heather) And they're not joking, the website has a fairly prominent button at the top that allows easy access for purchasing sauce! Do not pass go and head straight to Austin's Salt Lick BBQ!
FOOD TRUCKS! "The food truck game here is very strong, so I highly recommend trying basically any of them." (Danielle). I say take Danielle's advice and apply some 2021 gusto to it: TRY ALL OF THEM. Be sure to check out this website which details some of the most popular and insatiable Food Trucks roaming the streets of Austin and where they usually park: Austin Eater Article: Best Food Trucks. One in particular which was mentioned a couple of times is the Veracruz All Natural Food Trucks. "Veracruz tacos. Order online from the truck in Mueller Park, pick up your food, and go have a picnic! Get the migas taco — you won't regret it." A well oiled machine, the Veracruz Trucks service 6 locations around the Austin area AND their tacos can be found in several local Coffee spots around town! Tacos at Coffee spots! Maybe that's the 'norm' for Texas, but here in NY it dances a fine line of genius/mad! Veracruz All Natural Tacos Website
And speaking of Coffee, what looks to be a halfway decent spot is Mozart's Coffee Roasters on Lake Austin sporting roasted on site coffee beans, a great selection of baked desserts, Covid safe events and a view that can't be beat. https://mozartscoffee.com/ . And like many restaurants and event venues in the area, Mozart's constantly updates it's Covid precautions keeping everything safe and approachable. "Although I've not taken great advantage of the outdoor dining in Austin during the pandemic, I do think that a lot of restaurants have taken great steps to remain a safe place to eat. " (Melissa) Time to stretch your legs and try this place out.
And here are just a few more suggestions, thoughts and bits of advice for anyone looking to pass through, plant roots or just explore Austin:
"I love all the greenbelt and parks that have been open. The big doses of nature so close to the city have kept me sane! I really love the Bull Creek Preserve and McKinney Falls State Park. So many more that I love or still have to explore." (Danielle)
"I know that this isn't necessarily an "Austin only experience", but I am very excited for Alamo Drafthouse movie theaters to re-open! " (Melissa)
"Town lake! I try to get out there in my kayak as much as possible. Also, a lot of our coffee shops and breweries have massive, socially-distanced patios. " (Amelia)
"I live just outside Austin, and just down the road from me, there's a ton of breweries and wineries. Hill Country was already beautiful, but it's even better when you can take the whole family, and the dog and enjoy some craft beer under a shady tree. Both Vista Brewing and Jester King have recently opened trails, so you can walk with your beer, or book a table. Vista has totally nailed the contactless ordering thing, so with outside seating, social distancing, and limited capacity, it's a super-safe option to get everyone out the house.
Also, Ladybird lake is open again now, and stand up paddle boarding is so fun! There's regular kayaks too, but the paddle boards are much more challenging. " (Heather)
OK. So it may be a city housing an excessive amount of musicians and local bands. It also might be a city sporting traffic lights exacting it's own nefarious agenda ("The traffic lights downtown are some of the worst timed lights I have ever seen. I feel like they are designed to make you stop at almost every intersection." – Danielle) but this city is definitely worth a stop the next time you are passing through – just don't stop for too long or you may warrant a friendly Austinite's suggestion for you to 'think about moving elsewhere, as Austin isn't cool anymore.'