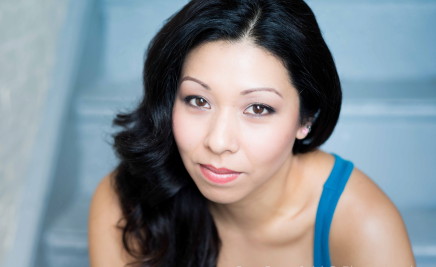 Born and raised in the Golden State of California, this week's #Laner of the Week, Jenn Aédo, has been a professional choreographer and dancer since 1999. This girl has got it going on!  Her passion for the arts  has taken her everywhere from Vegas to Paris, where she has directed competition teams, industrials, and master classes. She has choreographed countless events and productions in SoCal including The Marvelous Wonderettes, which won seven Inland Theatre League Awards in 2011 including Best Choreography.  Additionally, she was chosen to choreograph a commercial for MSN.com.  (See links below.)
Jenn Aédo has spent a good part of her career at Disneyland, singing and dancing in various stage shows, including an eleven-year run at Aladdin: A Musical Spectacular and hosting the Disney Grad Night since 2011. She has also danced back-up for Paulina Rubio and pop sensation P!NK.
Jenn Aédo moved to New York to pursue her love of theatre and her latest adventure shipped her all the way to Macau, China with the international tour of Miss Saigon, which was a life changing experience!
Jenn Aédo is also one of The American Bombshells, a New York-based charity entertainment organization.  She serves as an ambassador of America's gratitude, providing morale and entertainment to troops, veterans and fellow Americans.
Did we mention she's also a CA licensed stylist? She's been doing hair and make up professionally for 14 years!
Jenn Aédo adores Kristal and her fellow Laners at Mustard Lane! "It's always nice to walk into an event knowing you're going to be surrounded by good people who work hard and manage to have fun in the process," she says.  It's hard to find that combination but with people like Jenn on our team,  we seem to have a good handle on it!  We love you, Jenn!
http://www.americanbombshells.com/